E-Bike Energy Efficiency:A Handful of Eggs
E-Bike Energy Efficiency:A Handful of EggsToday, we get a boost. The University of Houston presents this series about the machines that make our civilization run, and the people whose ingenuity created them.
In the search for energy efficient transportation we tend to overlook one of the simplest most cost effective means of getting from point A to point B: walking. A person can walk a mile on the energy contained in a single egg. On the other hand, a car that gets thirty miles to the gallon would require the energy found in a dozen eggs. Walking wins hands down.
Of course, walking is slower, which is why we're so quick to hop in the car. But there's an alternative to walking that's both faster and more energy efficient. That, of course, is bicycling, which cuts the walking fuel in half and makes bicycling one of the most energy efficient means of human transportation.
Worldwide, bicycles far outnumber cars. And something we're seeing more and more of are bicycles with small electric engines – so-called e-bikes. As batteries have become smaller, lighter, and less expensive, they've also become more attractive options. Like hybrid cars, e-bikes can be designed to recapture energy lost to braking. And with their small engines, e-bikes are faster and even more energy efficient than their purely human-powered counterparts.
Dashboards on some electric bicycles include a 'carbon footprint savings' function.



All of which raises a question: Can electric bicycles help solve big environmental problems? The industry — which is making a push to expand its sales in the U.S. — says e-bicycles will reduce greenhouse gas emissions, air pollution, and traffic congestion, while enabling Americans, two-third of whom are obese or overweight, to become more active. In Europe and China, most electric bicycles are sold to commuters, although it's not clear whether they are replacing conventional bikes, mopeds, or cars.
E-bicycle makers eagerly market themselves as "green." Dashboards on e-bicycles sold under the Polaris brand and made by a Miami-based company called EVantage include a "carbon footprint savings" function to calculate how many pounds of CO2 are saved by using the bicycle in place of a gasoline-powered car.
Evelo, a Boston-based startup, recently launched a 30-day electric bike challenge, asking people to give up their car keys and blog about using their electric bikes. "We don't want to wean people from bicycles," says Boris Mordkovich, Evelo's founder, who previously worked at car-sharing company RelayRides. "We want to wean people from cars."
Yet if electric bikes end up replacing human-powered bikes, or if they are used only for exercise or fun, they could well add to pollution because they consume electricity, much of which comes from burning fossil fuels. Only if electric bicycles replace cars will their environmental benefits materialize — and that's the goal, say bike makers.
"Traditionally, people don't use bikes for transportation," says Larry Pizzi, the president of Currie Technologies, a leading e-bicyle manufacturer based in Simi Valley, California. "We're trying to change a paradigm." There are reasons to believe that the e-bicycle industry may be able to do just that.
Before explaining why, let's make clear what we mean by an electric bicycle. These are not mopeds or motorcycles, but bicycles that can be pedaled with or without an assist from an electric motor. They're sometimes called "pedelecs" or "pedal assist" bicycles because in Europe the boost from the motor only kicks in if you pedal; in the U.S., most e-bicycles also come equipped with a throttle to turn on the motor without any pedaling required.
Riding an electric bike feels a bit like riding a conventional bike with a brisk wind at your back; the motor helps you go faster and climb hills, but it's not the primary source of propulsion. Unlike mopeds or electric scooters, e-bicycles are typically permitted on bike paths, and they can't travel faster than 20 mph.
Like electric cars, electric bicycles are manufactured by a mix of startup companies and established players, including Schwinn, Trek, and Giant. Industry executives cite several reasons why e-bicycle sales are poised to take off in the U.S. Most important is the fact that more Americans than ever already bike to work, and that cities and towns are building infrastructure to accommodate them.
According to the League of American Bicyclists, bike commuting grew by 47 percent nationally between 2000 and 2011, and it grew by 80 percent in communities designated as "bicycle friendly" by the league. Cities including New York, Chicago, Washington, and Los Angeles are building dedicated bike lanes, like those found in northern Europe, to make commuting safer and easier.
Unlike drivers of electric cars, e-bike owners don't have to worry about running out of electricity.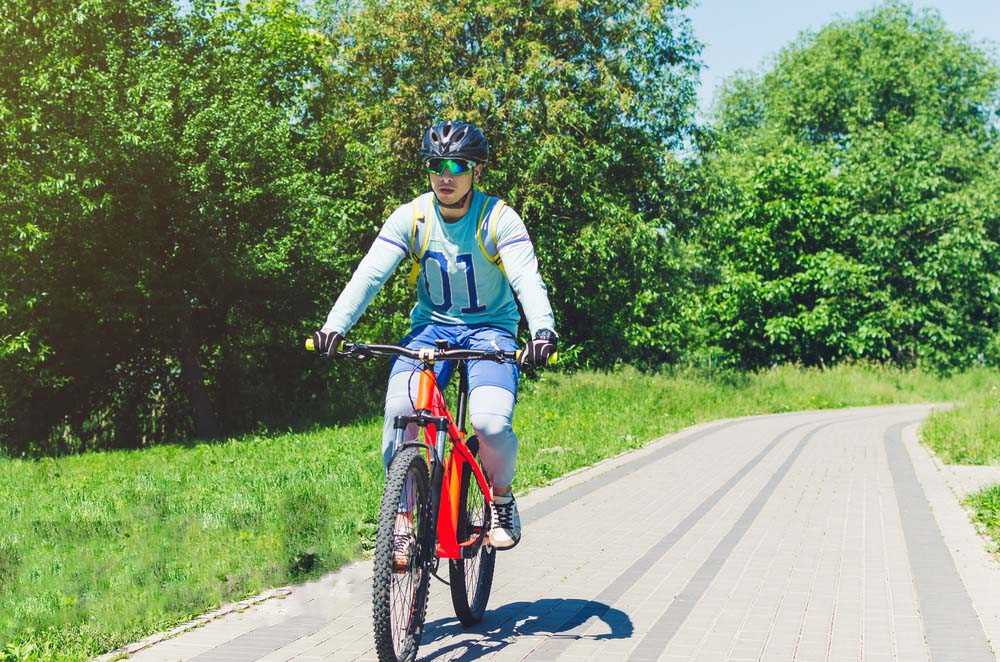 While some companies are emphasizing the practical benefits of electric bikes — they're good for your health, good for the planet and a low-cost way to get from here to there — others focus on fun and style. They are targeting urban buyers in their 20s and 30s, without a lot of money to spend, for whom the allure of owning a car has diminished.
"We want our bike to be a sexy product, one that everyone will want," says Daniel Del Aguila, a co-founder of Prodeco Technologies, which is about to open a new factory near Fort Lauderdale. By squeezing efficiencies out of its supply chain, Prodeco sells a number of models for $1,000 to $1,500 that, Del Aguila contends, compare favorably to bikes selling for $2,000 or more.
For the premium buyer, there's the Faraday Porteur, the brainchild of Adam Vollmer, a mechanical engineer from Ideo, the famed design firm. First launched as a Kickstarter project last year, Faraday is now taking pre-orders for the Porteur, which is priced at $3,500. It weighs less than 40 pounds, features a leather saddle and bamboo fenders, and its Web site promises that it is "crazy fun."
Even more expensive is the $4,000 eFlowE3 Nitro from Currie, which was designed by a Swiss firm, Flow AG, and promises "fast, powerful and nimble handling." And if you've really got money to burn, there's a German e-bicycle called the Blacktrail BT-1 that claims a top speed of 65 mph and retails for $80,000. Think of it as the Tesla of electric bikes.
E-bicycles can be pedaled with or without an assist from an electric motor.



"It's happening in every major city, and a lot of secondary cities around the country, and it's causing people to think differently about getting around on two wheels," says Pizzi. "If you don't have safe infrastructure, people don't feel as if biking is safe and secure."
Electric bikes make commutes more inviting by easing worries about hills, headwinds, and fatigue. "They increase the distance that people can ride comfortably," says Evelo's Mordkovich. Commuters on e-bicycles are also less likely to arrive at the office dripping with sweat. "It seems like a small detail," Mordkovich says, "but it's a big deal to a lot of people."
Baby boomers are an obvious market for electric bicycles. "We're seeing an aging population, and a growing number of people getting back into cycling," says Bill Moore, an Internet publisher who recently launched ePEDALER, an electric-assist bicycle retailer. Urbanization will be another driver of electric bike sales, Moore said, as will the obesity crisis, rising health care costs, and the desires of employers to encourage their workers to become more active.
Like electric cars, electric bikes are pricey. A basic e-bike can be had for as little as $499 on Amazon, but sturdy, well-designed models with better-quality batteries cost between $2,000 and $3,500. (Conventional bikes sell for an average of about $450 in speciality stores and about $100 in retailers like Walmart and Target where most bikes are sold.) Prices could come down as batteries and electric motors become more efficient, and economies of scale come into play. "The technology is getting better, rapidly," says Dave Hurst of Navigant.
Unlike drivers of electric cars who are plagued by "range anxiety," electric bike owners don't have to worry about running out of electricity: They can travel under their own power, assuming they've got the energy to pedal a bike that weighs 45 to 60 pounds. Batteries typically deliver 20 to 40 miles of assisted riding, and they can be recharged in a few hours in ordinary power outlets.
But e-bikes face some interesting challenges.



For example, what makes an e-bike a bicycle and not a motorcycle? It's more than an idle question. Motorcycles fall under the jurisdiction of a state's Department of Motor Vehicles. Owners must register motorcycles, pay special taxes, and become certified to operate them. No such requirements are needed to ride a bike.
Congress answered the question quite specifically in 2002. First, an e-bike must have a fully operational set of pedals. Without the engine, it must act like a bike. Second, the electric engine is limited to 1 horsepower, which is considerably smaller than the engines on most push mowers.
And finally, when using only motor power, an e-bike can't go faster than twenty miles-per-hour. If a two or three wheel vehicle meets these qualifications, it's a "low speed electric bicycle," and it's considered a consumer product, not a motor vehicle. As such, federal regulations are issued by the Consumer Products Safety Commission, which oversees the safety of items like cell phones, baby clothes, and skin care products.
While the federal government has defined what an e-bike is, states still have the right to define how e-bikes are used. And for the time being there's not much consensus. States are decidedly split when it comes to needing a license. Many require a license, many don't. Arizona, Iowa, and Texas treat e-bikes as bicycles. Alabama and Alaska require all the same licensing and fees as motorcycles.
Of course, regulatory challenges aren't all that face e-bikes. From trips to work to weekend soccer games, cars are tough to replace. But when a bicycle's an option, it's nice to know that you can get by on just a handful of eggs.
If you are looking for a new way of commuting or want a healthier lifestyle, we are here to help you. Visit our website to learn more about electric bikes and electric scooter or please leave information to us.
Leave a message