F3 electric tricycle, providing you with convenient travel and super-long endurance!
The Electric Fat Trike is the perfect companion for your next off-road adventure. The 14 x 2.125 inch front wheel rolls over anything in your way, and the rear 20 x 4 inch wheels lower your center of gravity for stability. The front suspension and suspension seatpost keep you comfortable on rough terrain.
The Electric Fat Trike sports versatile wide20 inch tires with a low-profile tread for both road and off-road use. These tough tires will tolerate inflation pressures from 5-30 psi, so you can let the air out for serious traction on loose surfaces or pump them up hard for excellent road performance.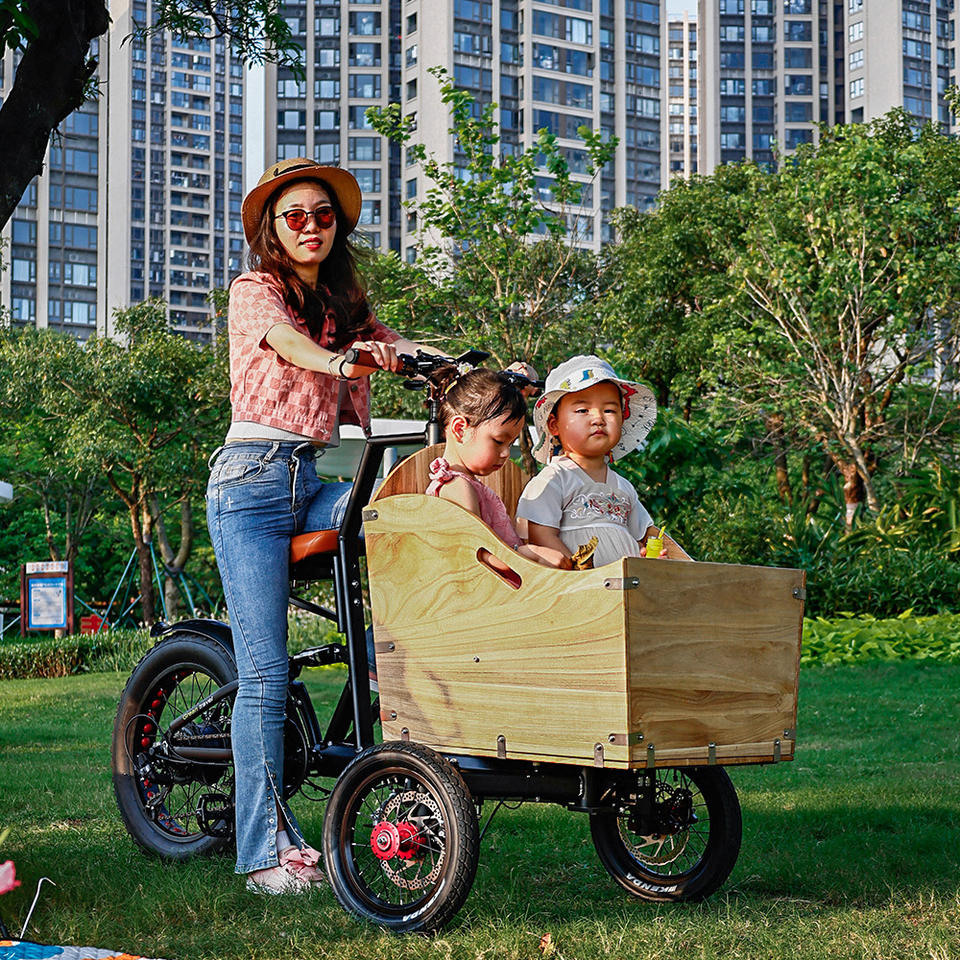 Hotebike-F3 E-Bike is designed to conquer a variety of road sections with utmost efficiency and comfort. Engineered with robust shock-absorbing suspension and durable, kenda tires, this bike ensures smooth rides whether you're navigating city streets, suburban bike lanes, rural gravel roads, or mountain trails. Its highly responsive gearing system allows for easy adjustment to different terrains and slopes, offering you control and stability regardless of the road conditions. Experience seamless cycling adventures with HOTEBIKE F3 E-Bike, as it transforms all types of roads into your personal smooth pathway."
Experience exceptional power and performance with our High-Speed Electric Cargo Bike, equipped with a dynamic Bafang rear motor. Available in 36V 250W/350W and 48V 500W/750W variants, this bafang brushless motor delivers high-speed propulsion, excellent torque and the power to haul heavy cargo loads or effortlessly climb steep inclines. The brushless technology ensures quiet operation, reduced wear and tear and offers superior longevity compared to traditional motors. Whether you're delivering goods, commuting, or out for a leisure ride, the High-Speed Electric Cargo Bike's robust motor ensures a reliable, efficient, and thrilling cycling experience
Our Electric Cargo Bike promises outstanding longevity and cycle performance, all thanks to its high-quality construction and choice of premium materials. Nestled at its heart is the power source – a high-capacity battery leveraging industry-leading Samsung cells. Available in both 36V 14.4AH and 48V 14.4AH variants, these batteries deliver consistent power output, ensuring your rides are uninterrupted and your cargo reaches its destination in good time. More than just a reliable source of power, these batteries are noted for their long lifespan, reducing the frequency of replacements and contributing to the overall durability and efficiency of the bike. Enjoy prolonged biking adventures and the peace of mind that comes with knowing your electric cargo bike is powered by the very best."、
it's a robust transportation solution for those who require a bit more from their vehicle. With its impressive load capacity of over 300lbs+, it is built to accommodate all your cargo needs without compromising on performance or stability. Whether you're making deliveries for your small business, planning a picnic in the park, or taking your kids to school, this electric cargo bike has got you covered. The bike's design incorporates advanced engineering techniques to ensure weight is evenly distributed, providing a smooth and safe ride. superior load capacity doesn't just increase its functionality but also opens up a world of possibilities for its use."
In summary, no matter what your needs are, we have customized solutions waiting for you. We are committed to providing an electric bike that is both powerful and durable, versatile and convenient, making each ride smoother, safer, and more enjoyable. We understand that everyone's needs are unique, so we offer"In conclusion, no matter what your needs are, we have a customized solution waiting for you. We are committed to providing an electric bike that is both personalized customization services to meet all your requirements. Choose a solution that fits your personalized needs while choosing a more environmentally powerful and durable, versatile and convenient, making every ride smoother, safer, and more enjoyable. We understand that everyone's needs are unique friendly and efficient mode of travel. Experience our customization services now and let us help you create a unique riding experience that is entirely your own!", so we offer personalized customization services to meet all your requirements. While choosing a more environmentally friendly and efficient way of travel, also choose a solution that fits your personalized needs. Experience our customized service now and let us help you create a unique riding experience that is truly yours!"